Status CoupVention:
Progressives Fight Back
It's final…Joe Biden has chosen Kamala Harris as his running mate.
The DNC powers-that-be are ready to coronate their King and Queen at convention. One who wrote the crime bill and the other who has spent her time going after Black mothers for truancy, refusing to investigate the crimes of police,  and tossing Black people in jail with harsh sentences that don't match the victims' very minor crimes.
Nevermind that we're in an age of protests and uprisings against the police murders of George Floyd, Breonna Taylor, and so many others. Nevermind the calls to defund and demilitarize the police.
Biden and Harris are decidedly NOT progressives. The Democratic Party doesn't care about progressives (See: AOC's 60-second speaking slot).
Through shady machinations and a decidedly UNdemocratic primary, Bernie Sanders and his supporters were cast aside–and with him went his policies.
This week, it's the Democratic convention where the establishment can pat themselves on the back for a job well done. For yet another race where progressives get nothing and the "resistance" party gets to continue their focus on holding their money and power.
NEWS: Progressives are fighting back at the 2020 Dem convention, and Status Coup will be there every step of the way.
This week, Jordan and Jenn will be IN Milwaukee on a socially distanced road trip. We'll catch protests, give up-to-the-minute convention commentary, talk to Bernie delegates, and show you what's really going on in Wisconsin this election cycle, where Trump won in 2016.
Donald Trump will be in WI too, trolling the Dems every step of the way.
It's the Status CoupVention: Progressives Fight Back Road Trip!
On this page, we'll update you about the trip (check it daily for new blog posts and pics!), the interviews we're doing, and what we learn–and think–along the way.
We also need your help! Due to COVID, we've lost a lot of members who are struggling financially and this convention is SO important to cover but it's pricey to travel cross-country with three people (NYC to Milwaukee is quite a hike!).
Help get the TRUTH of what's going on at the 2020 Dem convention out by supporting this reporting road trip at any amount. We have a goal of raising $3,000 for this trip before we head home at the convention's end. Absolutely any amount would help us and keeps our reporting free.
SUPPORT Status Coup (click the button on the next page)
Your support goes toward covering hotels, gas, food, Live U streaming costs, and freelancer fees for videography and editing
SUPPORT Status Coup (click the button on the next page)
Status CoupVention Trip Daily Blog Updates!
Check back daily for pics, video links, and news of what we've been up to each day. Bookmark this page!
8/15/20 Updates
Today is a day FULL of driving. It's 14 hours to Milwaukee from NYC and we're driving the whole way for safety due to COVID. But, we know it's going to be worth it. We plan to go live from the car today. In between streams, we're connecting with protesters and Bernie delegates who are going to be in Milwaukee.
Here's a video we shot for you when we stopped to eat lunch:
Update: It's been a LONG day of driving. But well worth it. We're tired but invigorated. To pass the time on the road, we did a live stream while driving (with Jon filming in the backseat–all done very safely 😉
Before we knew it, we'd been live for FOUR HOURS! Phew! It was a lot of fun and the Status CoupMunity helped keep us going.
You can see that livestream here:
We stopped off in Ohio and ate a very well deserved dinner.
We also want to thank everyone who helped contribute to our #DemConvention road trip fundraiser. It's because of you all that we're able to take this trip in the first place. If you're able to help support us at any amount, here's the link.
8/16/20 Updates
We had a good night's sleep in Ohio after a very long day of driving. We have about 5 hours ahead of us to get to Milwaukee, but we're ready to go!
Update:
As soon as we made it to Milwaukee, we headed over to a pro-peace, anti-war rally held by Bernie Sanders delegates. The event featured both in-person and virtual speakers and overlooking it all was a giant billboard taken out for the event.
Jordan interviewed attendees of the rally:
Jon, our cameraman, made a fantastic long-distance microphone to help keep us COVID-safe while still being able to report on what matters.
I LOVE this picture Jon captured of Jordan and me.
Here are more pics from the event:
After the event, we ate dinner, made plans for tomorrow, and got some rest.
8/17/20 Updates
It's officially the first day of the convention! Our first stop is to a Trump rally in Oshkosh where there will also be progressive counter-protesters. Definitely keep your eye out for updates on that and text Coup to 370370 so you're notified when we go live.
UPDATE:
The Trump rally was…really something! We didn't go inside the rally itself–no doubt it was full of people not wearing masks and standing close together in tight quarters. Certainly not where you want to be in the middle of a pandemic.
Jordan interviewed people who had gathered on lawns in front of local houses. There were some protesters interspersed with the Trump fans. For the most part, this section was Trump-land from top to bottom.
Here are links to today's streams and clips:
Jordan Interviews TRUMP Supporters LIVE from Oshkosh, Wisconsin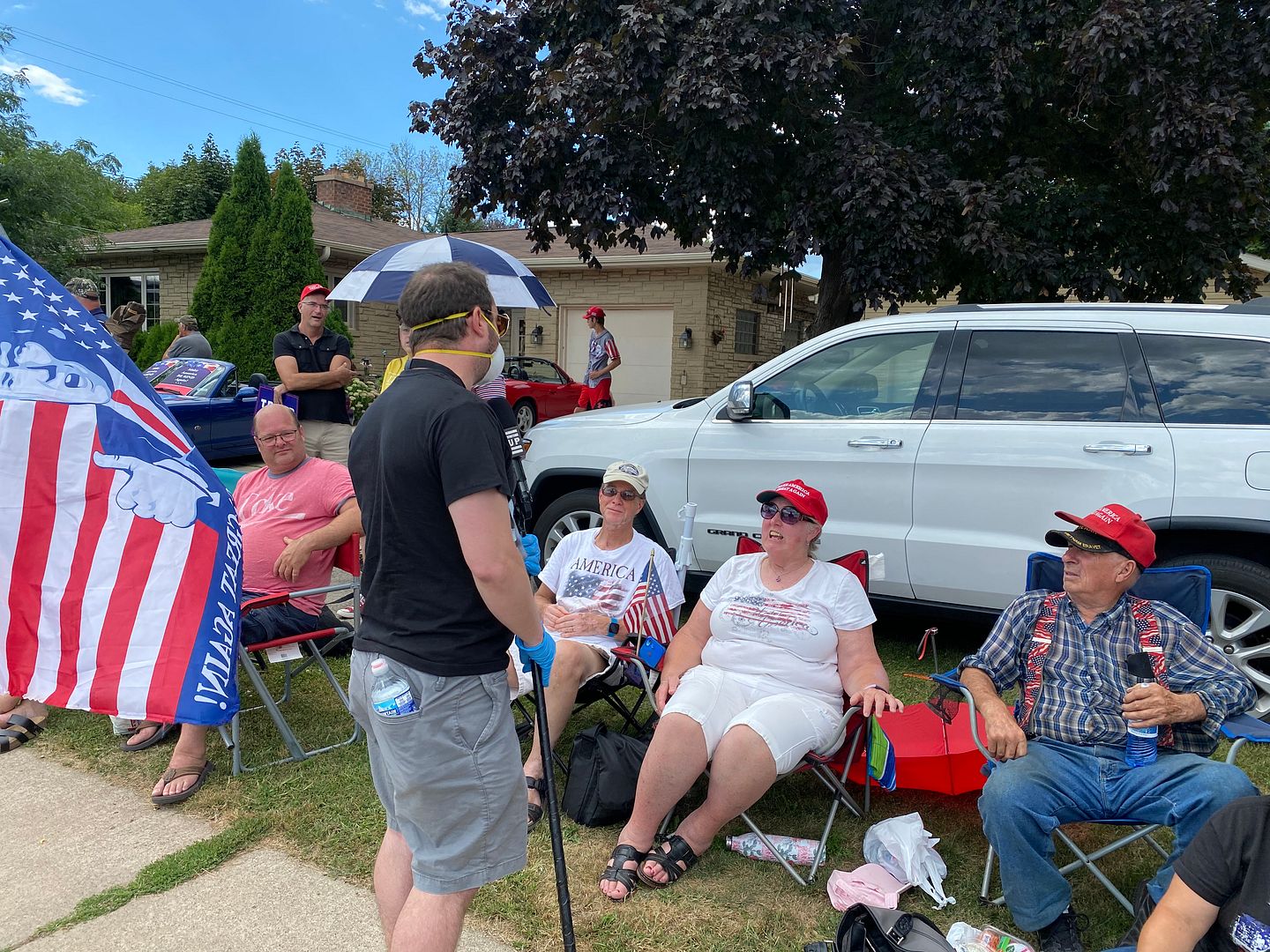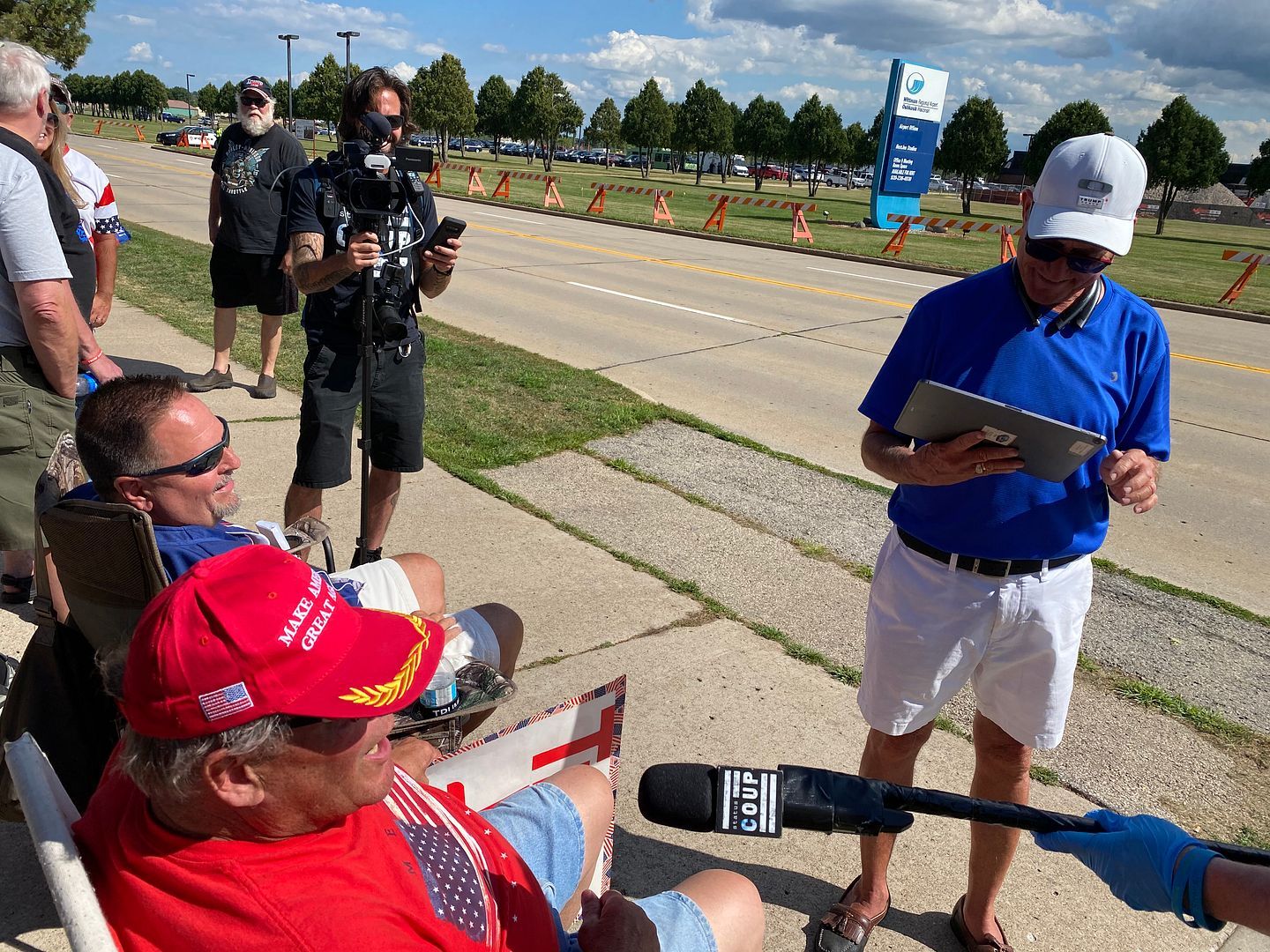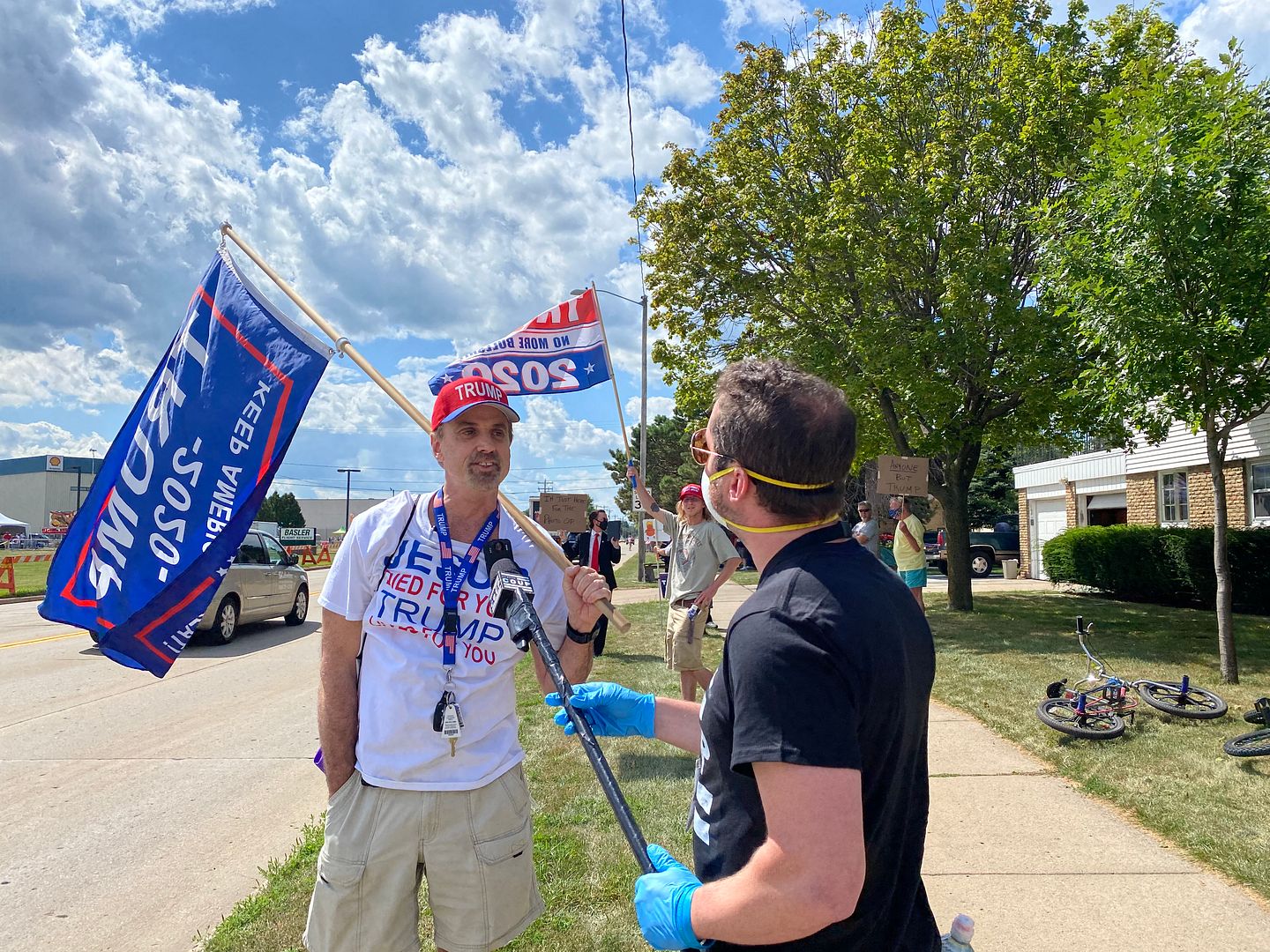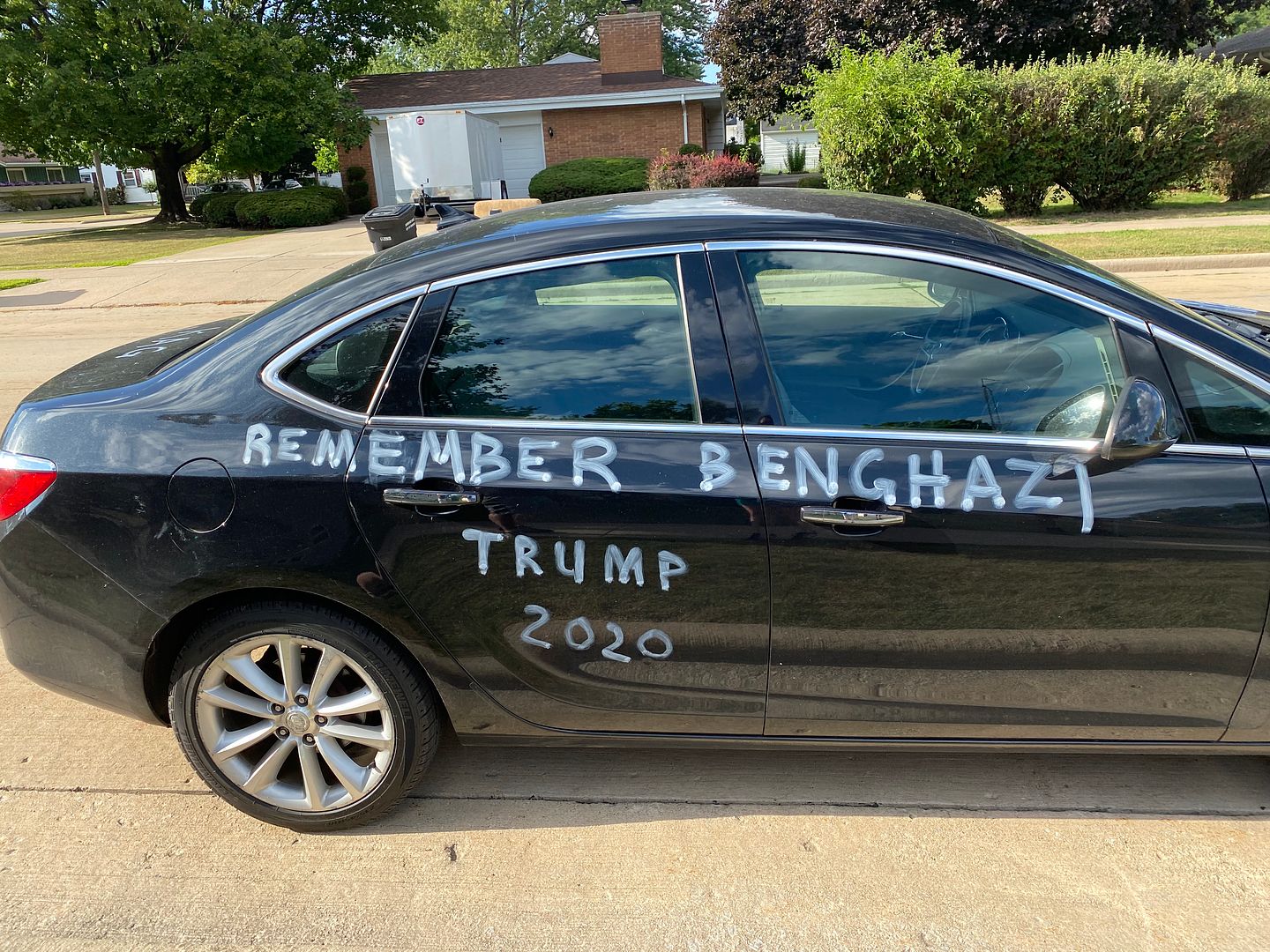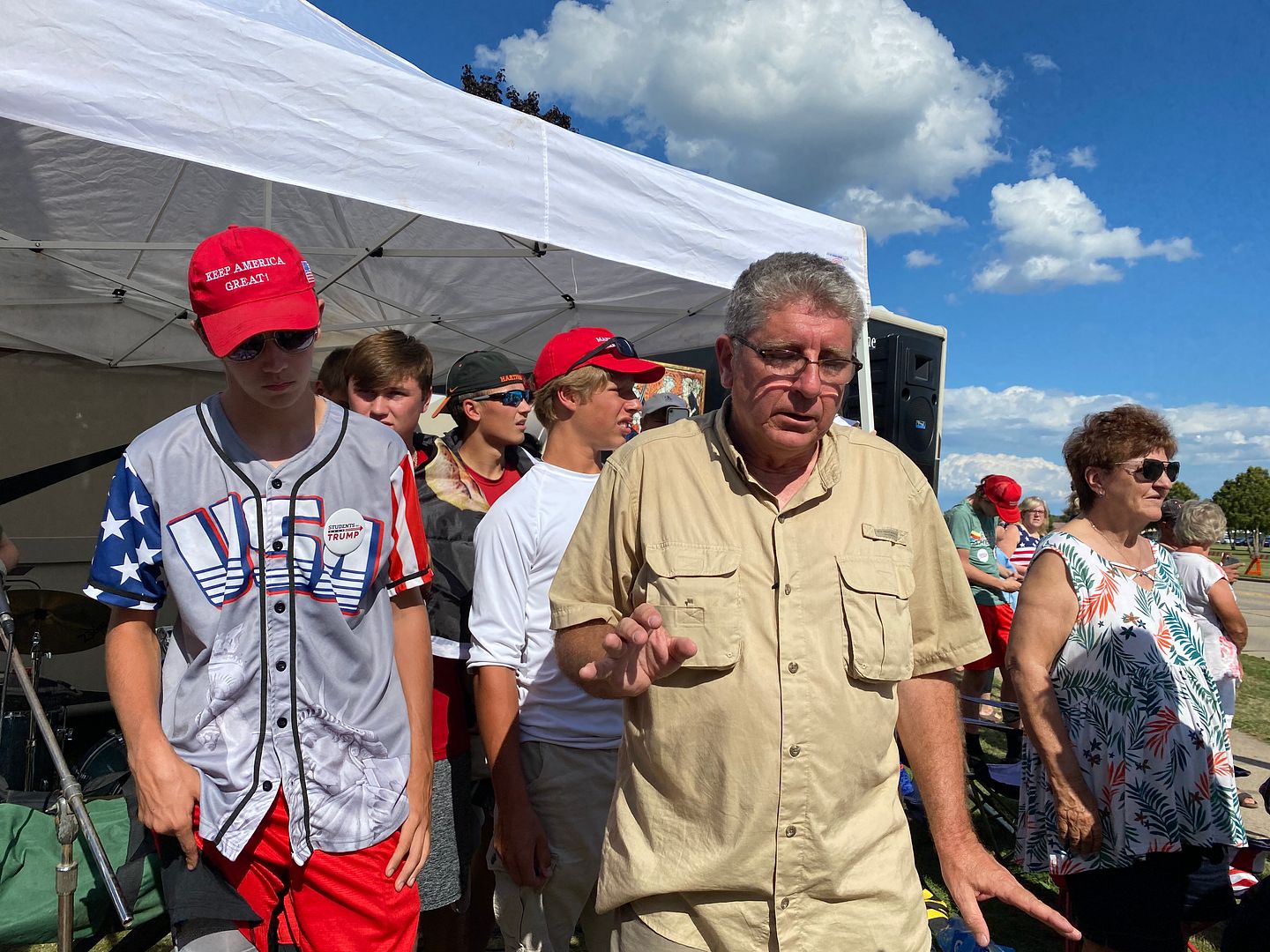 Here are some of the Biden supporters mixed in with this group: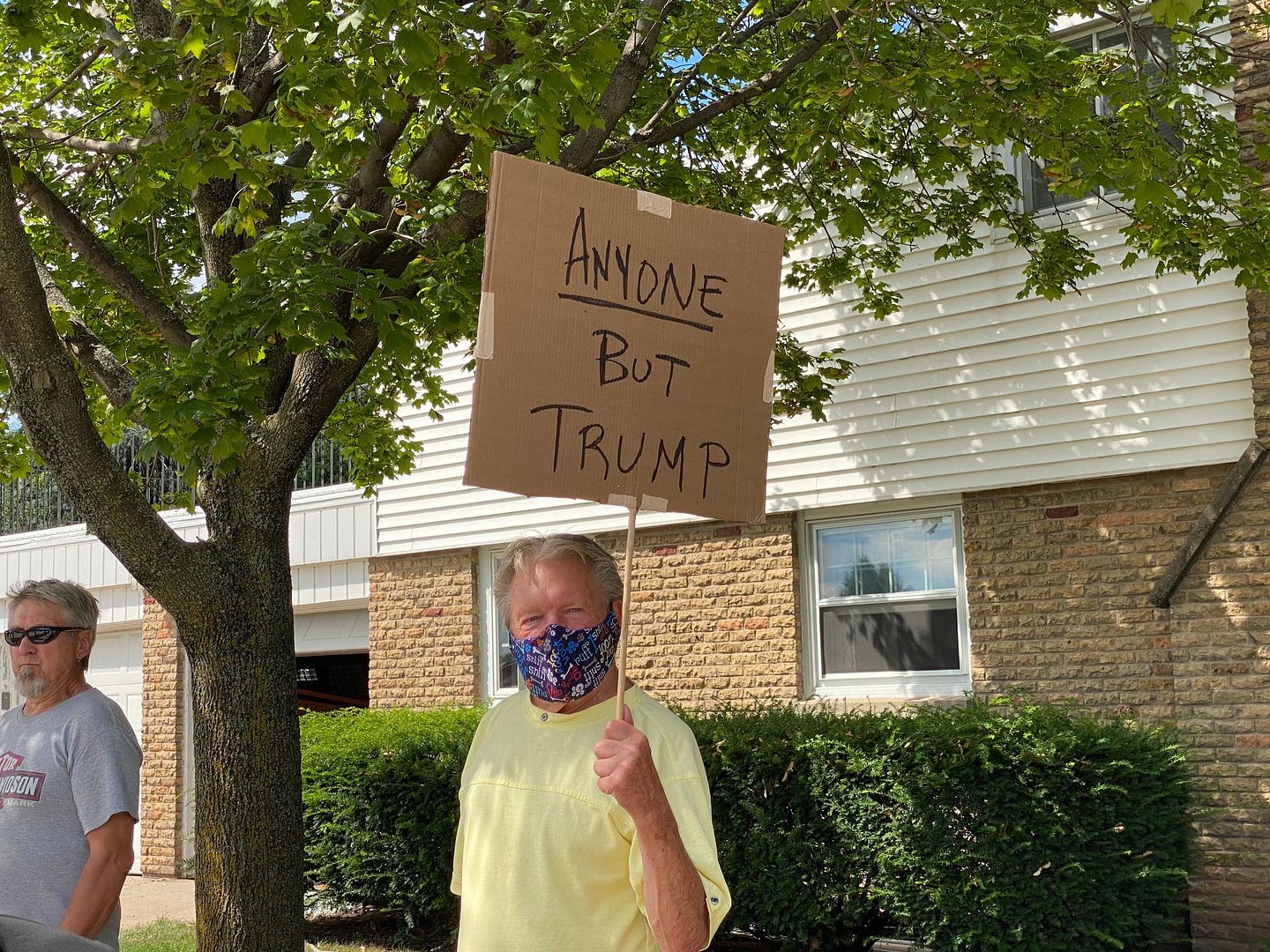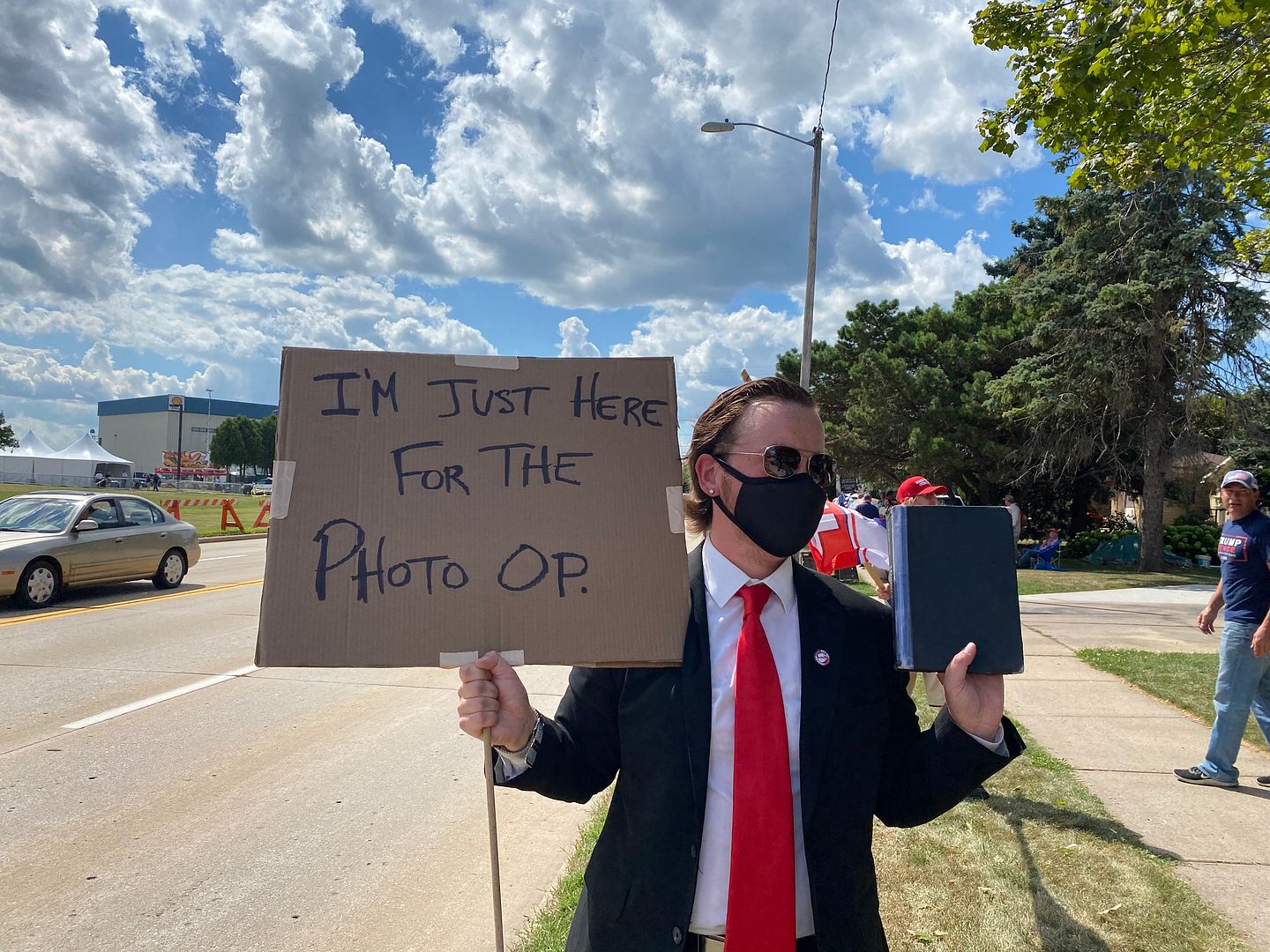 At one point, protesters stood in front of a Trump supporter's truck and there was a standoff: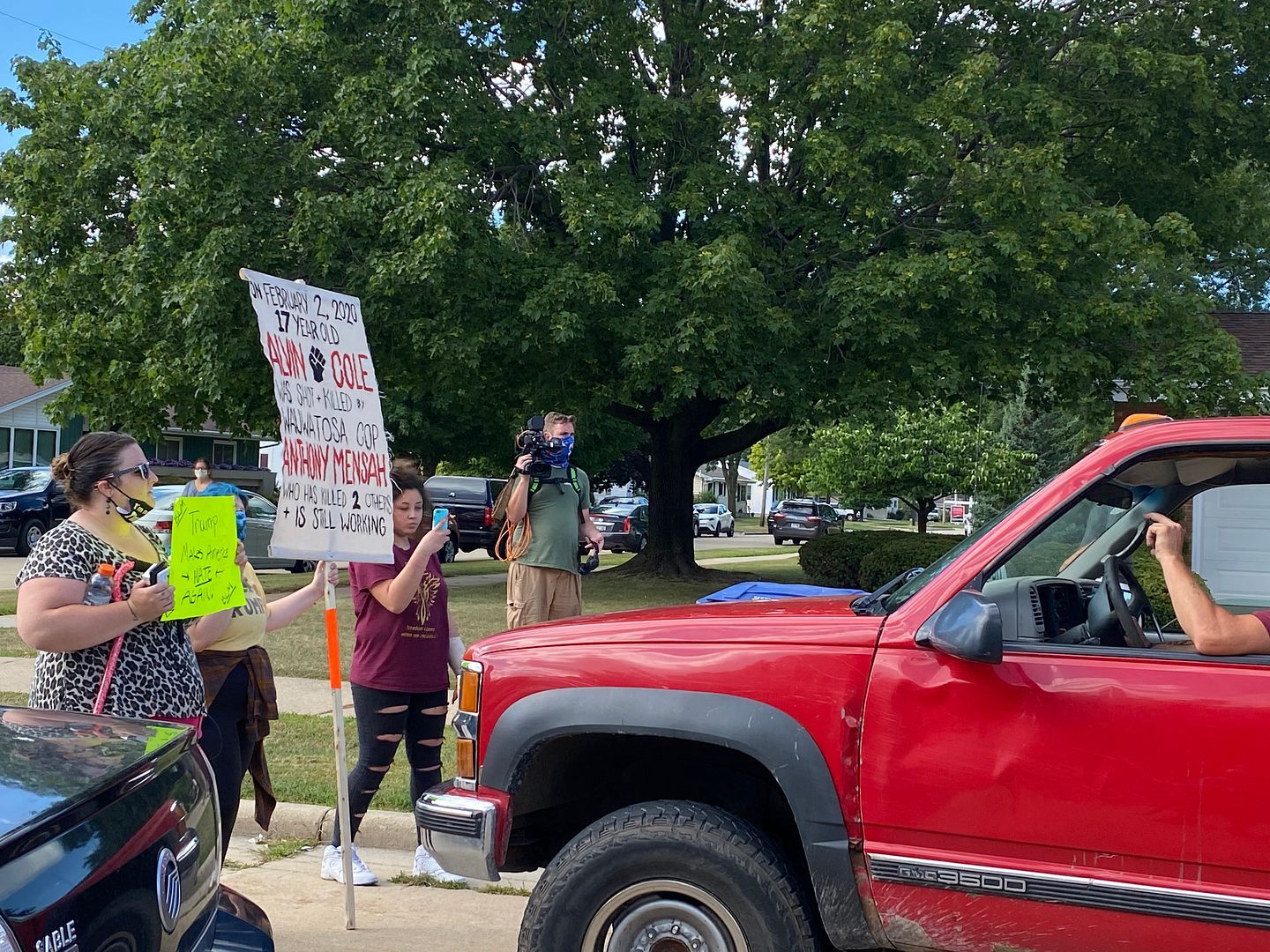 Cops had relegated most of the protesters to one street, and they had messages that give us hope: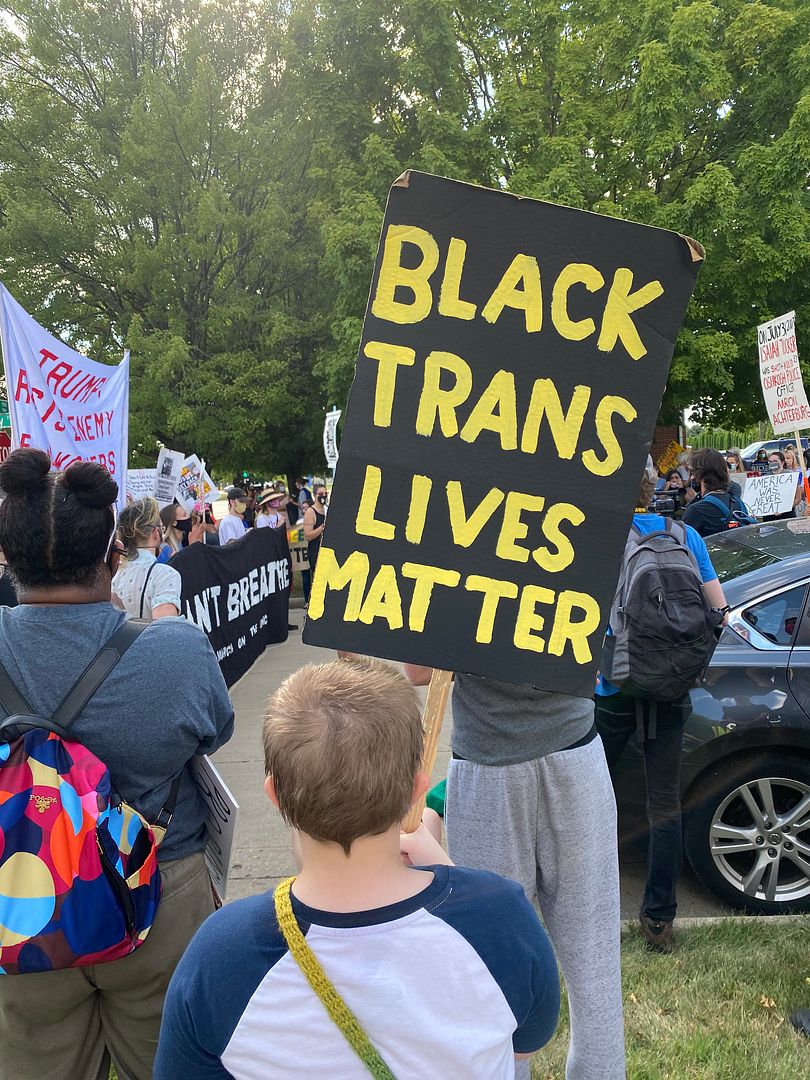 Text Coup to 370370 so you see when we go live throughout convention week!
Scroll up and support this reporting trip at any amount.
JOIN Status Coup as a member and get a free Status Coup mask
8/18/20 Updates
Today was the second day of the convention. We went live from the hotel to give our thoughts on the first day…which was a disaster–we may as well be watching the GOP convention. Biden and friends are working very hard to attract republicans while giving the middle finger to progressives.
The best part of the day was interviewing the #BernieOrVest crew, who, in the midst of a pandemic, are fighting for progressive policy and acting as the last stand against a corrupt DNC.
Watch our hotel room convention recap:
Here's the livestream with the #BernieOrVest crew–Jordan did some fantastic interviews here:
Here's a shorter clip of the protesters:
Also, enjoy these photos from today!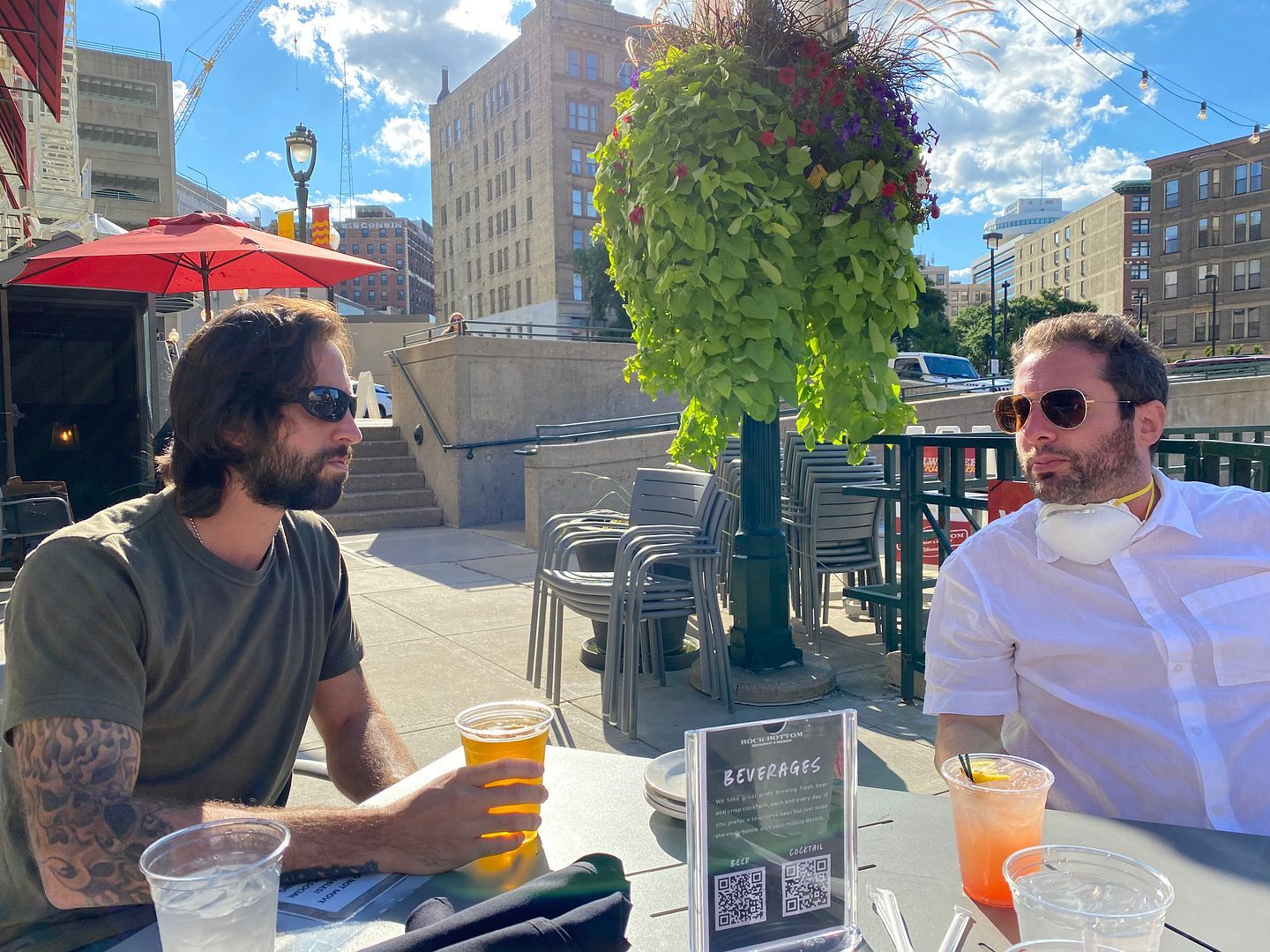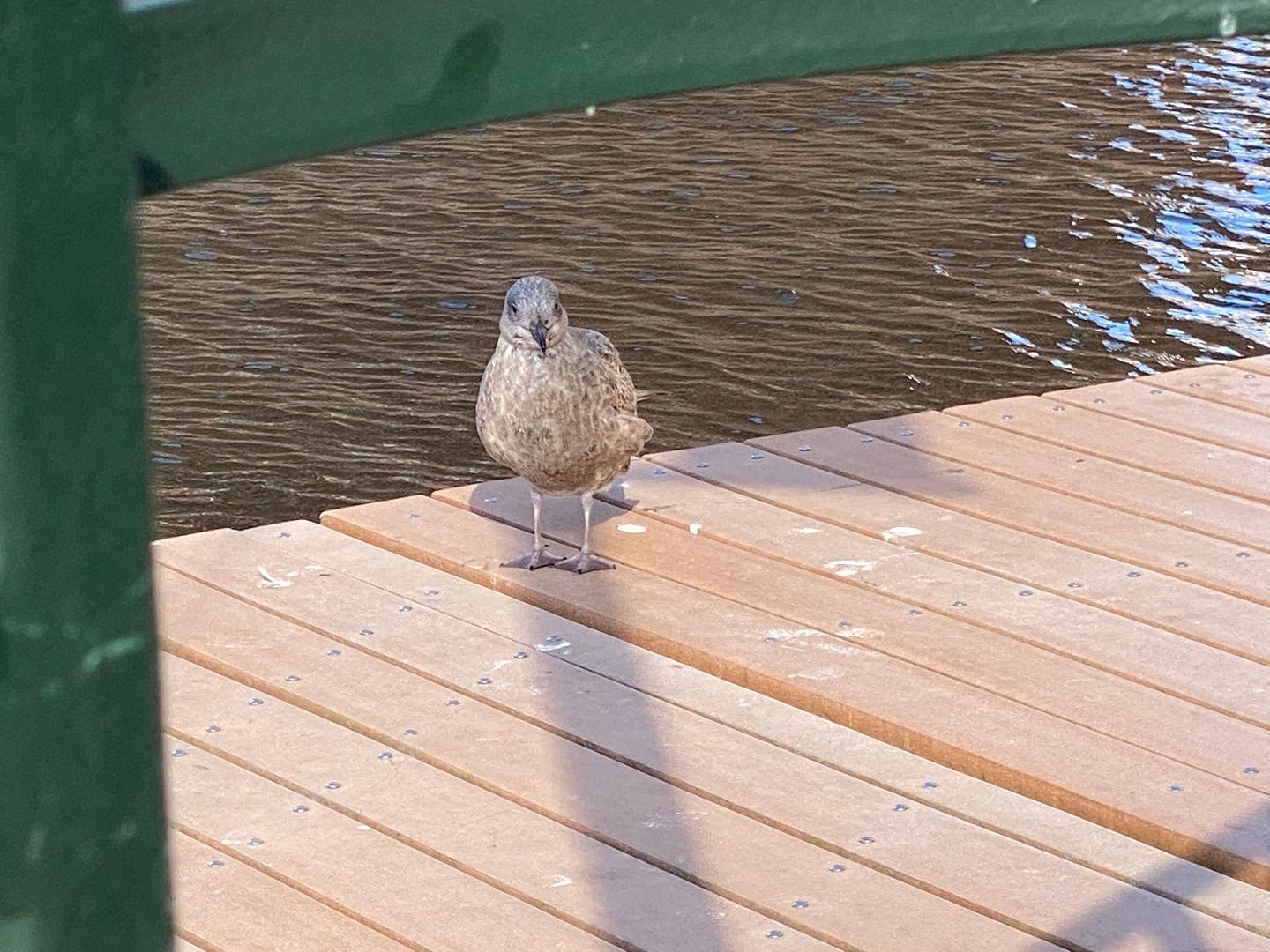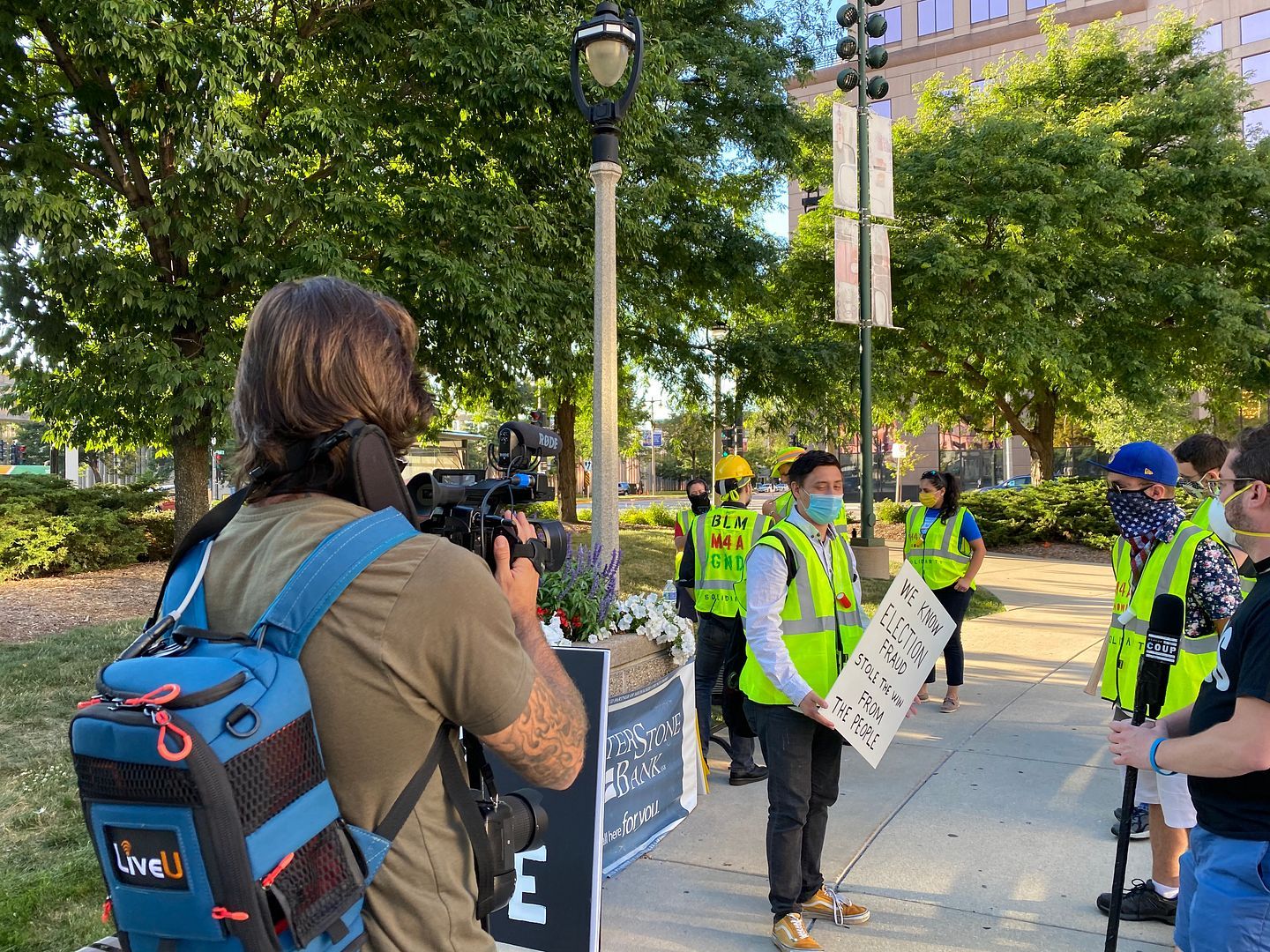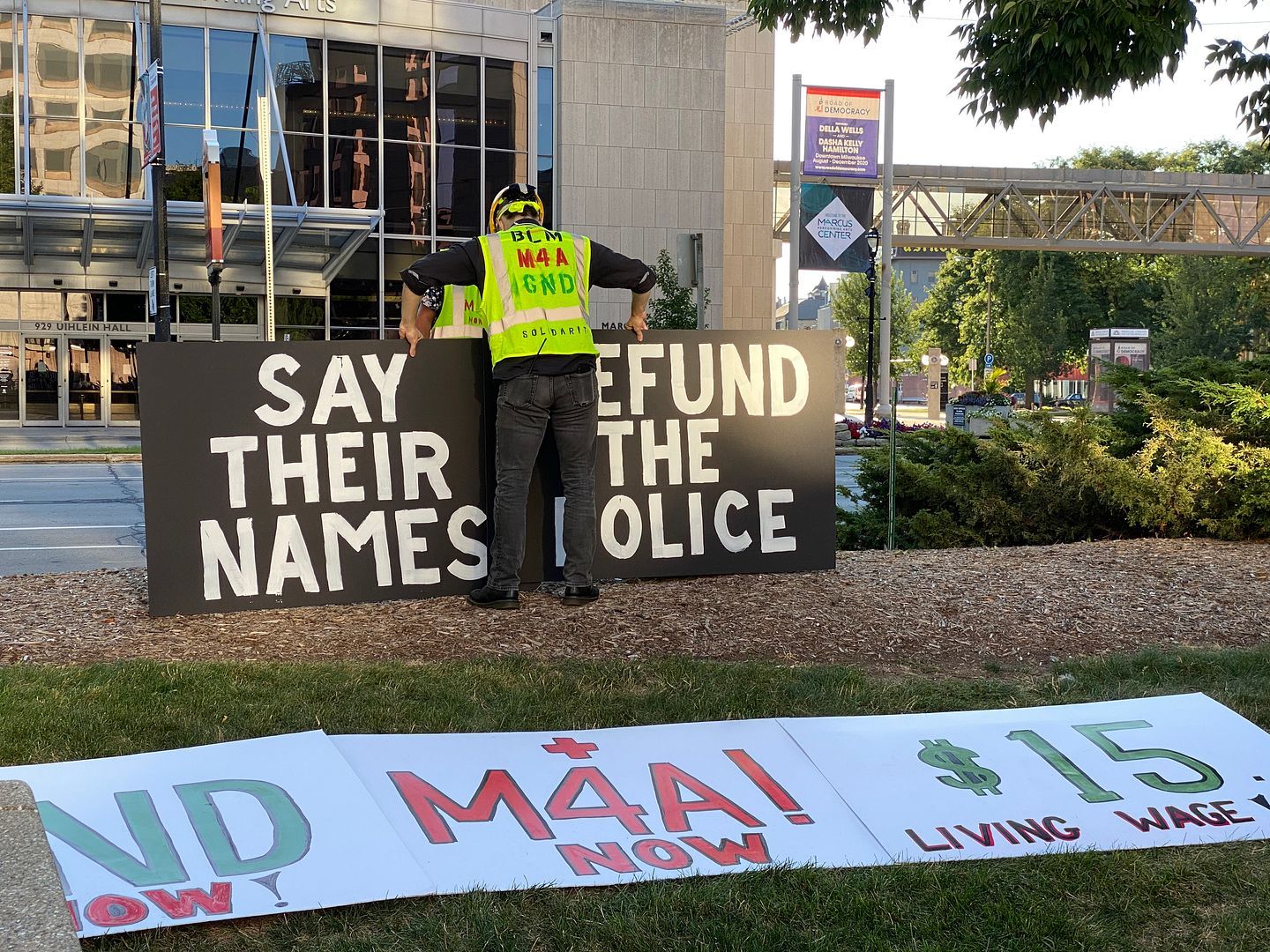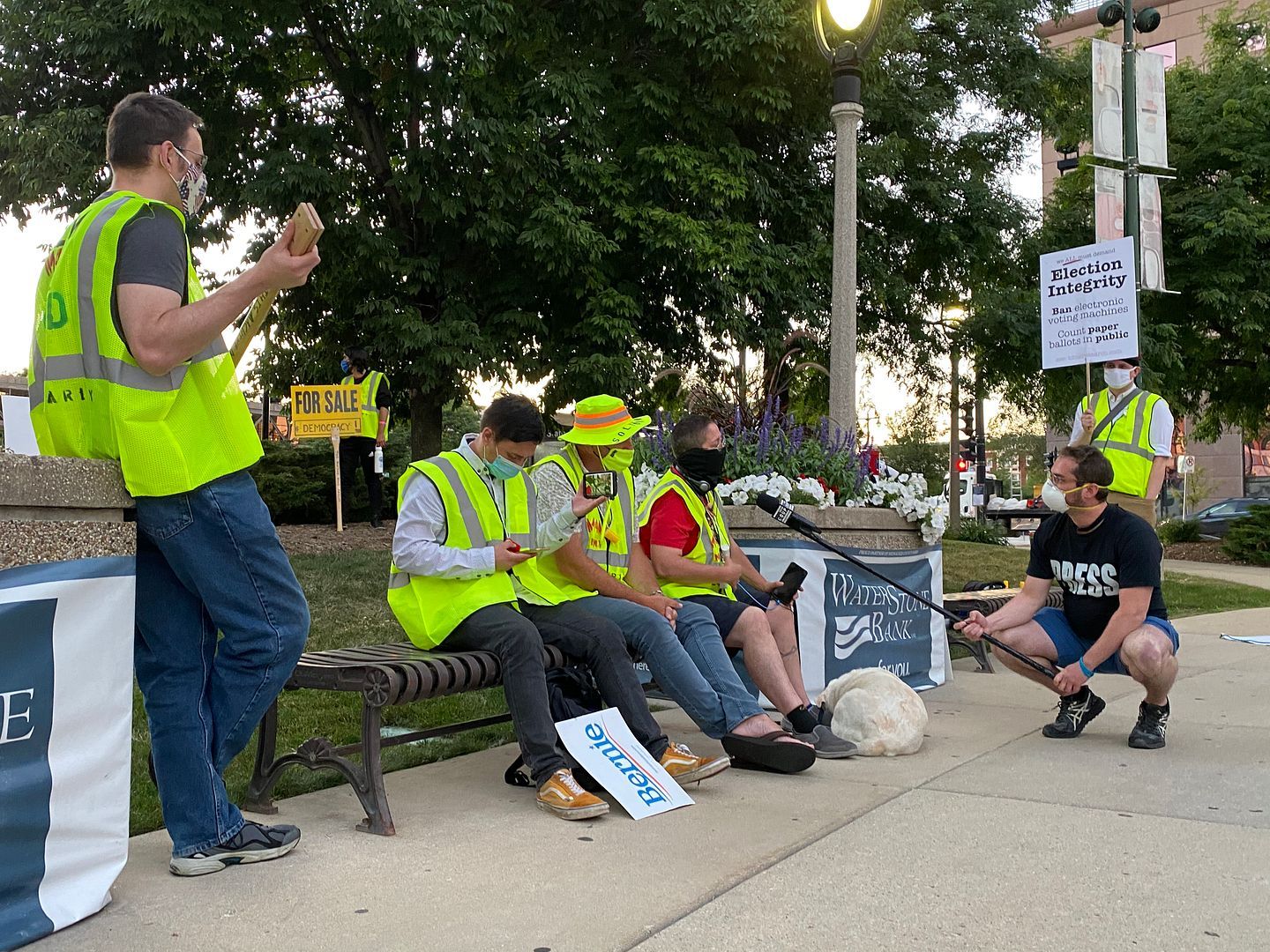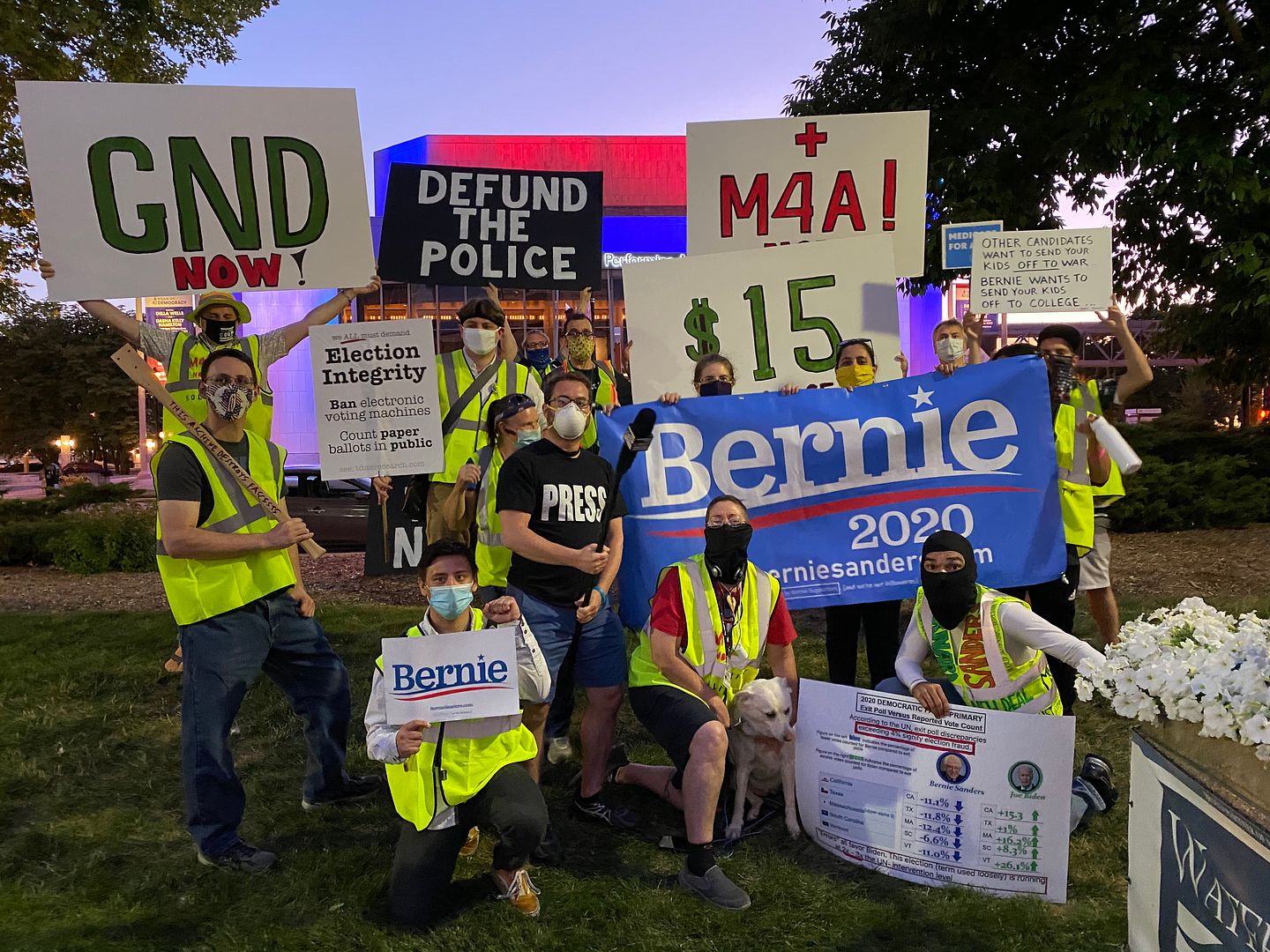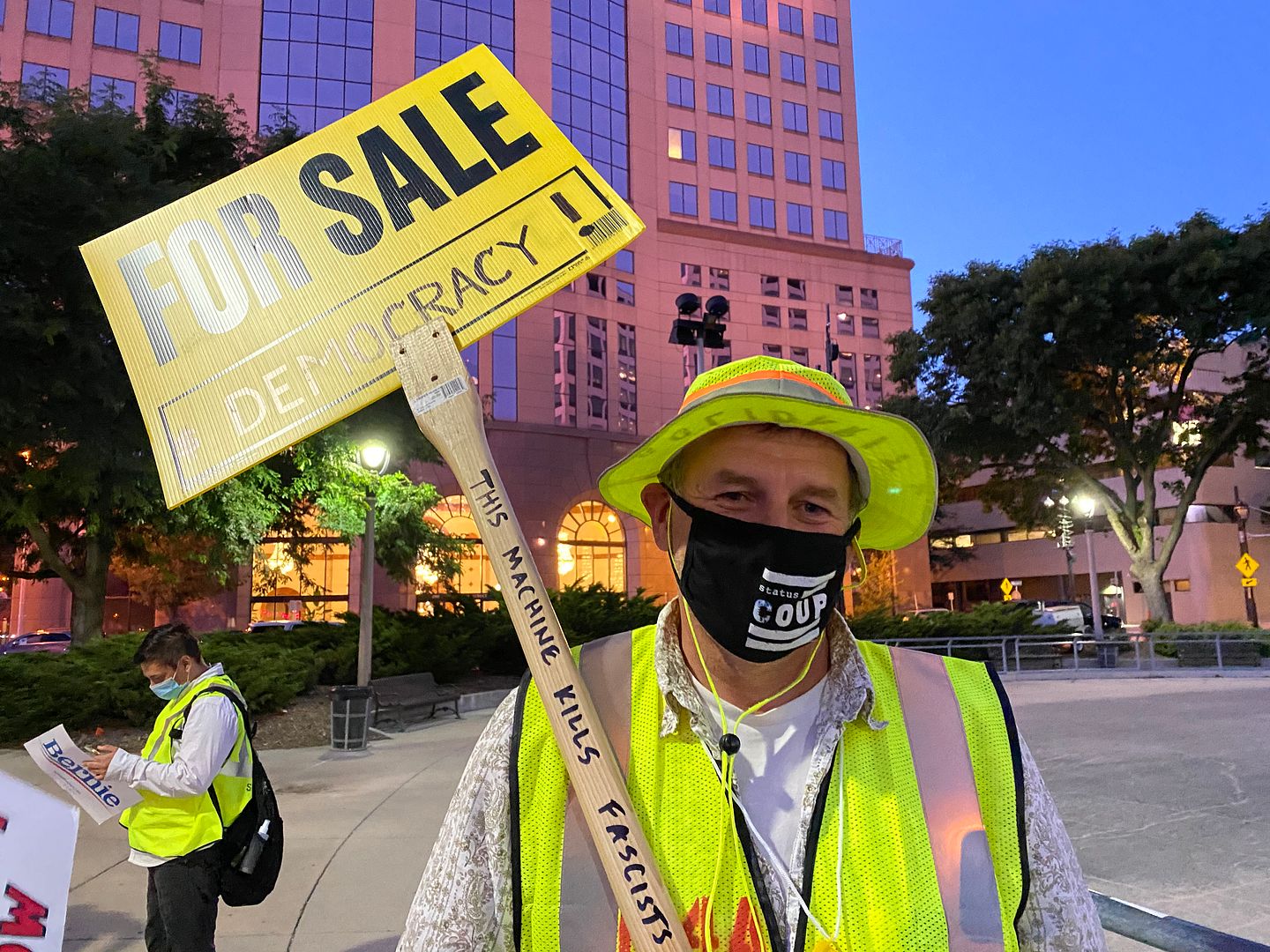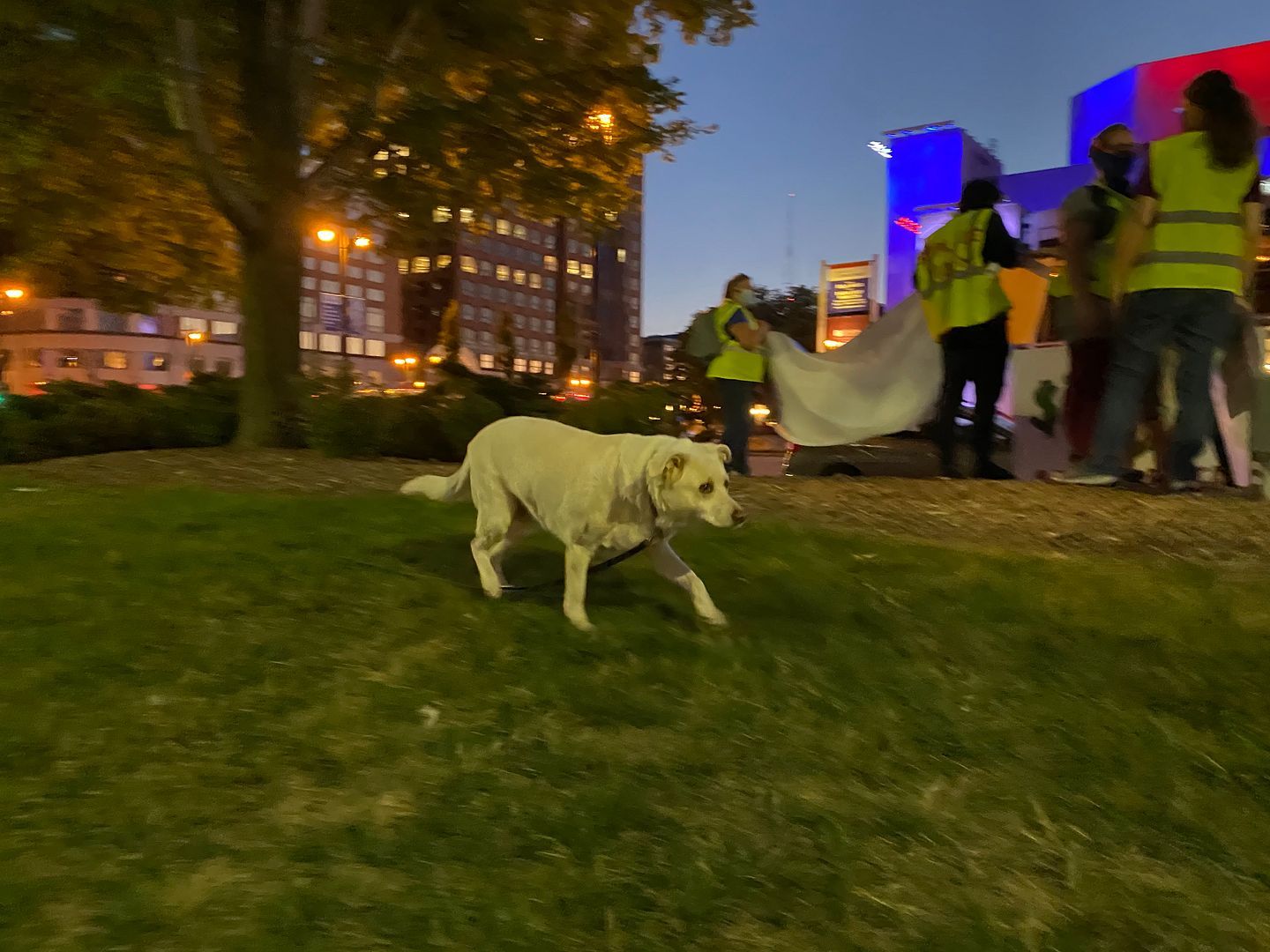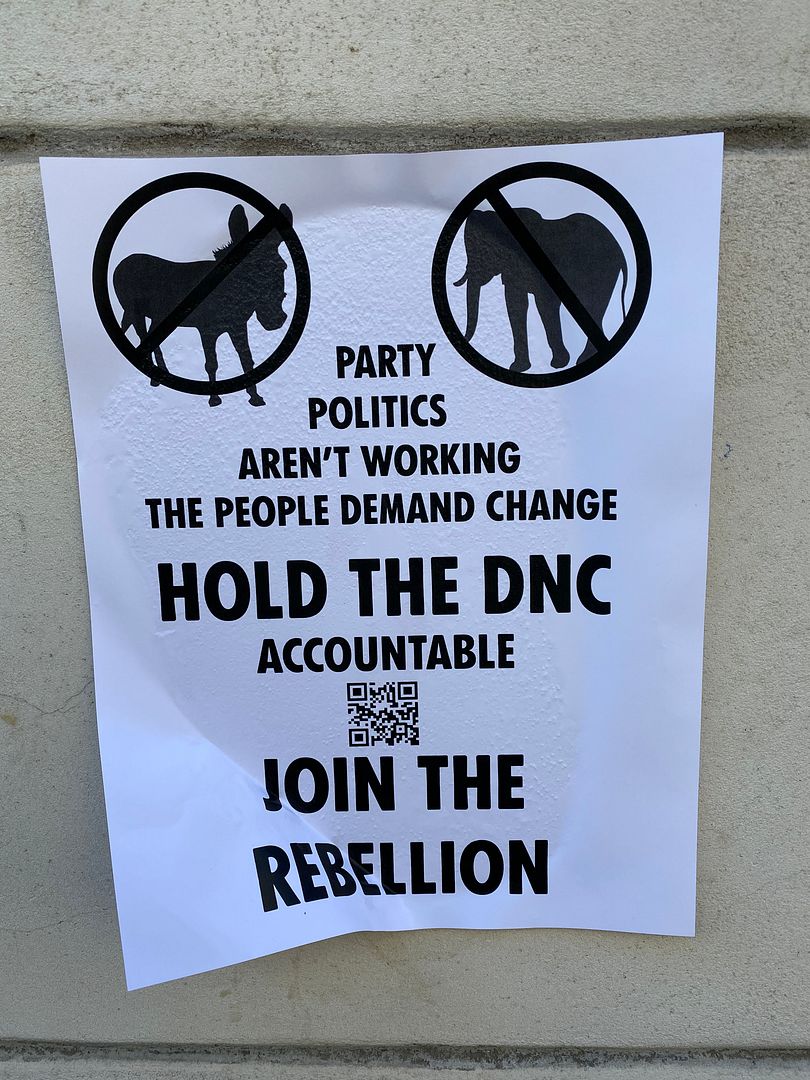 Text Coup to 370370 so you get notified when we go live throughout convention week!
JOIN Status Coup as a member and get a FREE Status Coup mask!
Help support this in-field trip at any amount by scrolling up and clicking the button to contribute to our fundraiser via Stripe or PayPal.
8/19/20 Updates
Today was a calmer day in the morning, giving us time to catch up on marketing and backend business tasks. We went live from the hotel to recap day 2 of the convention–which, as expected, was another MESS of a night. More platitudes, no policy.
In the evening, we headed down to "The Wall" surrounding the Wisconsin Center, which is where this ghost-convention is being held. The Bernie yellow vesters were there protesting and pushing for progressive policy. Another group showed up too that we hadn't run into here before–Extinction Rebellion.
There was a bit of scuffle between police/secret service and Extinction Rebellion when the later was trying to fly a drone on the "people's" side of the fence. Extinction Rebellion were dressed up as SuperHeroes and Nancy Pelosi/Elizabeth Warren clowns, which was quite a sight.
Tomorrow, another group is supposed to join in the fray for the biggest march/protest of the week as Joe Biden accepts the nomination for the Democratic party.
Check out our livestreams and videos from today:
DNC Convention Evolves From Trainwreck to Titanic–Jordan & Jenn LIVE From Milwaukee
Bernie Yellow Vesters Protest on DNC Convention Night 3–Jordan LIVE From Milwaukee
Here are some behind-the-scenes pics!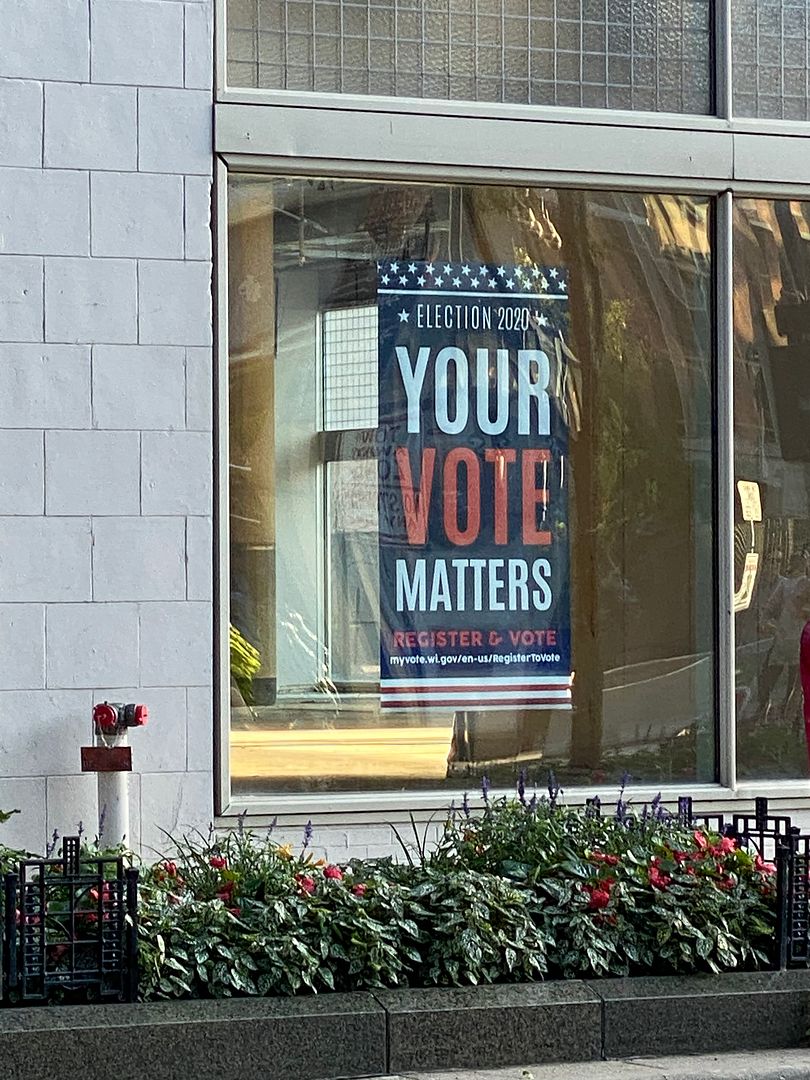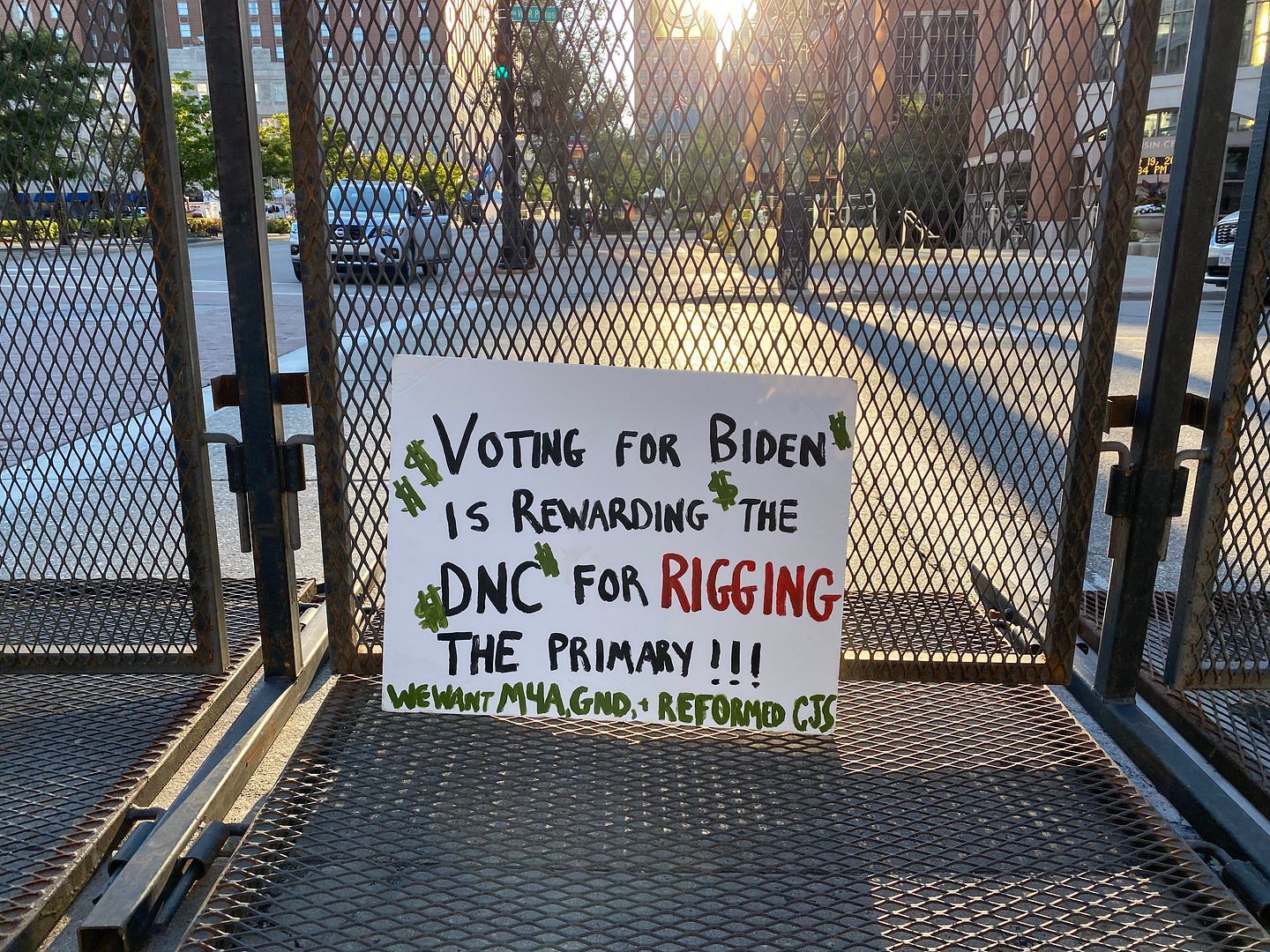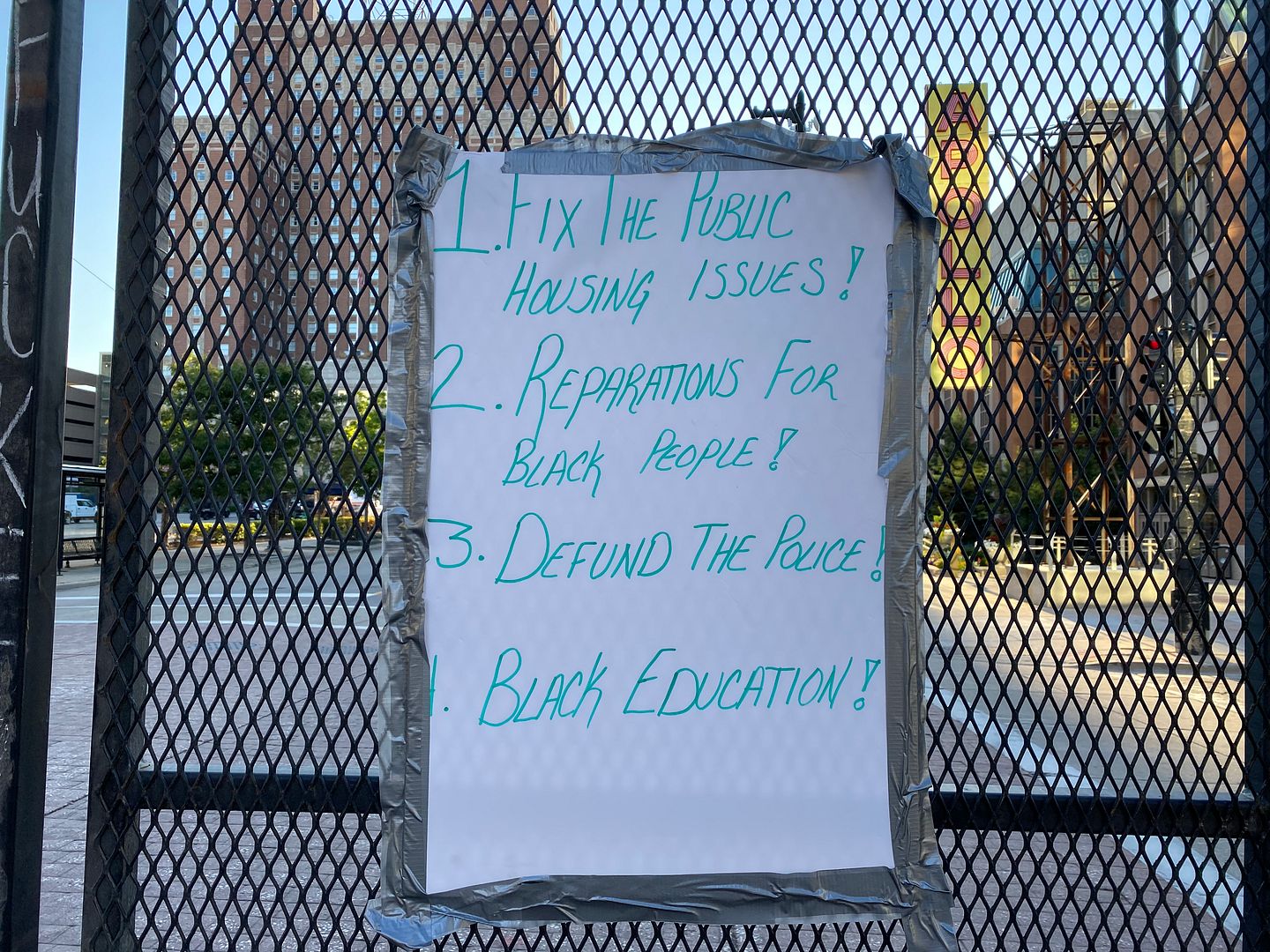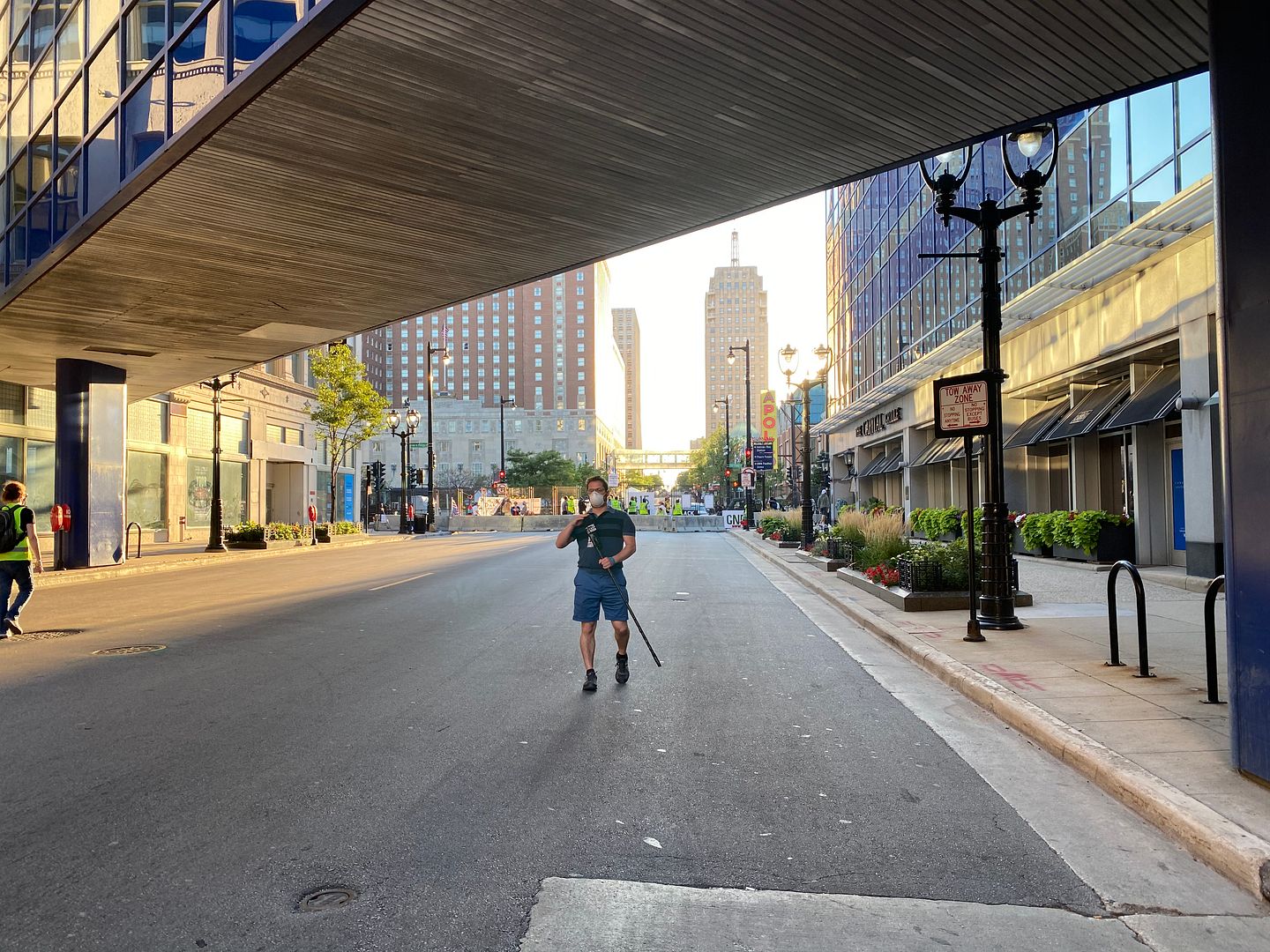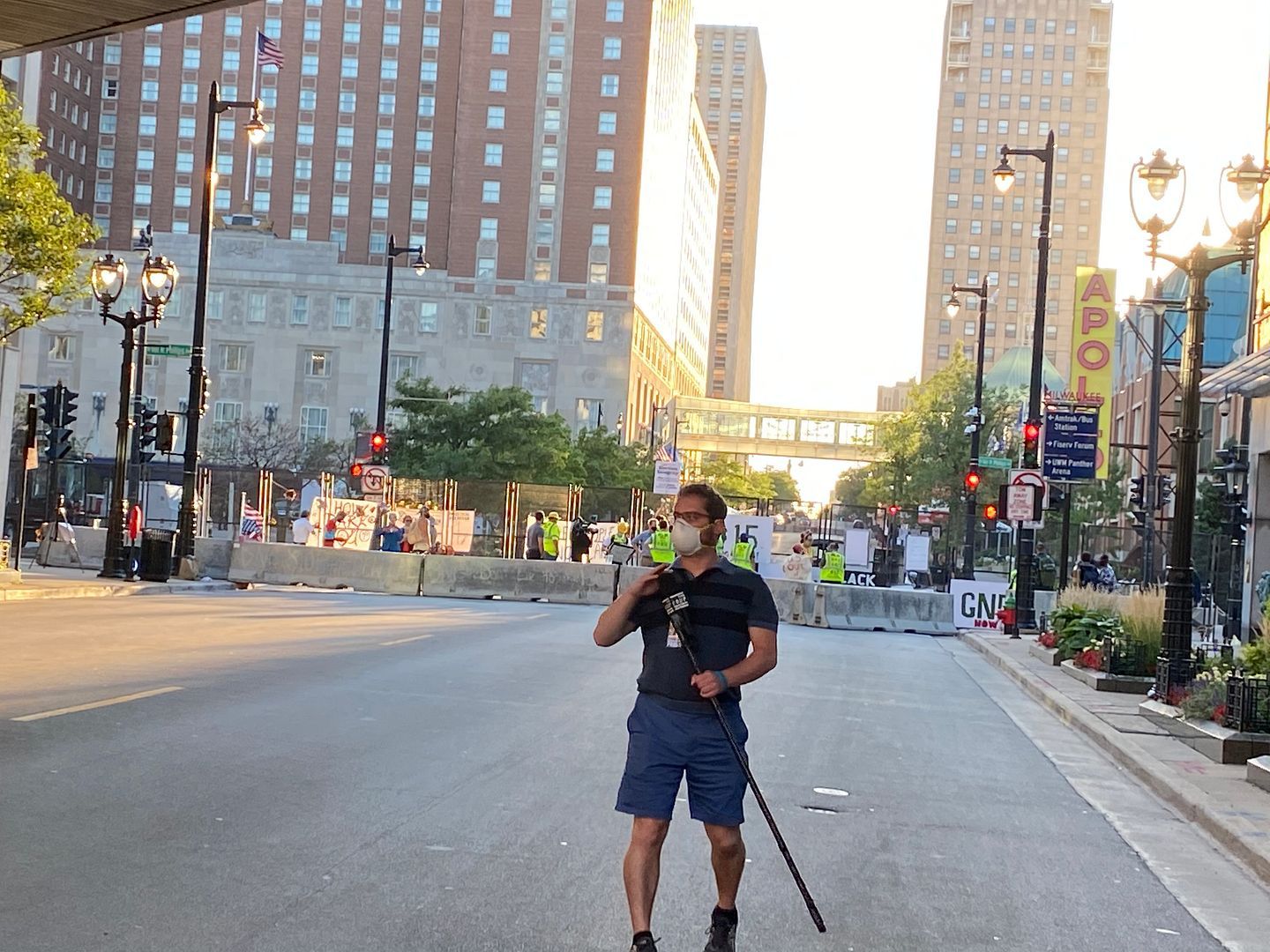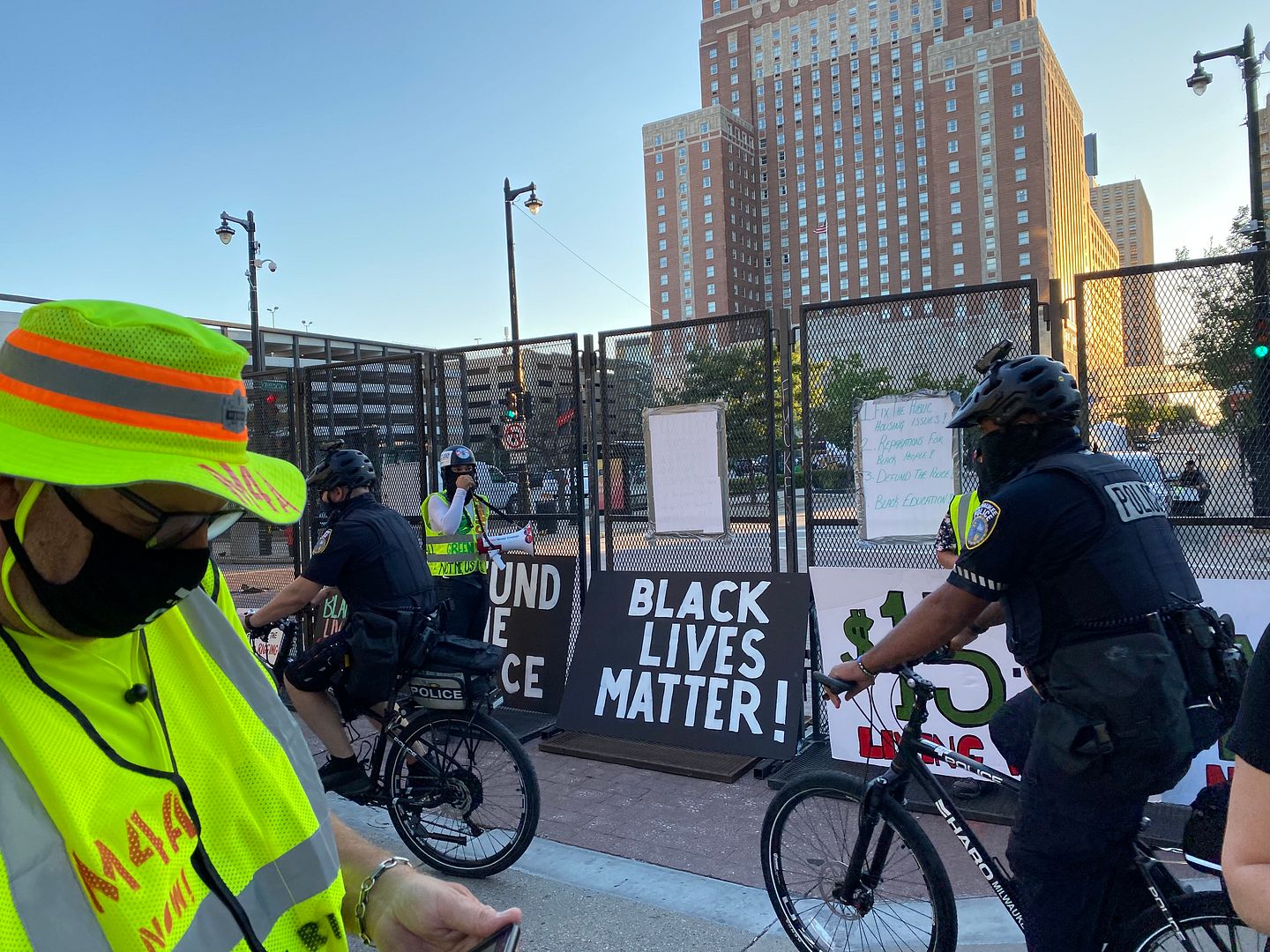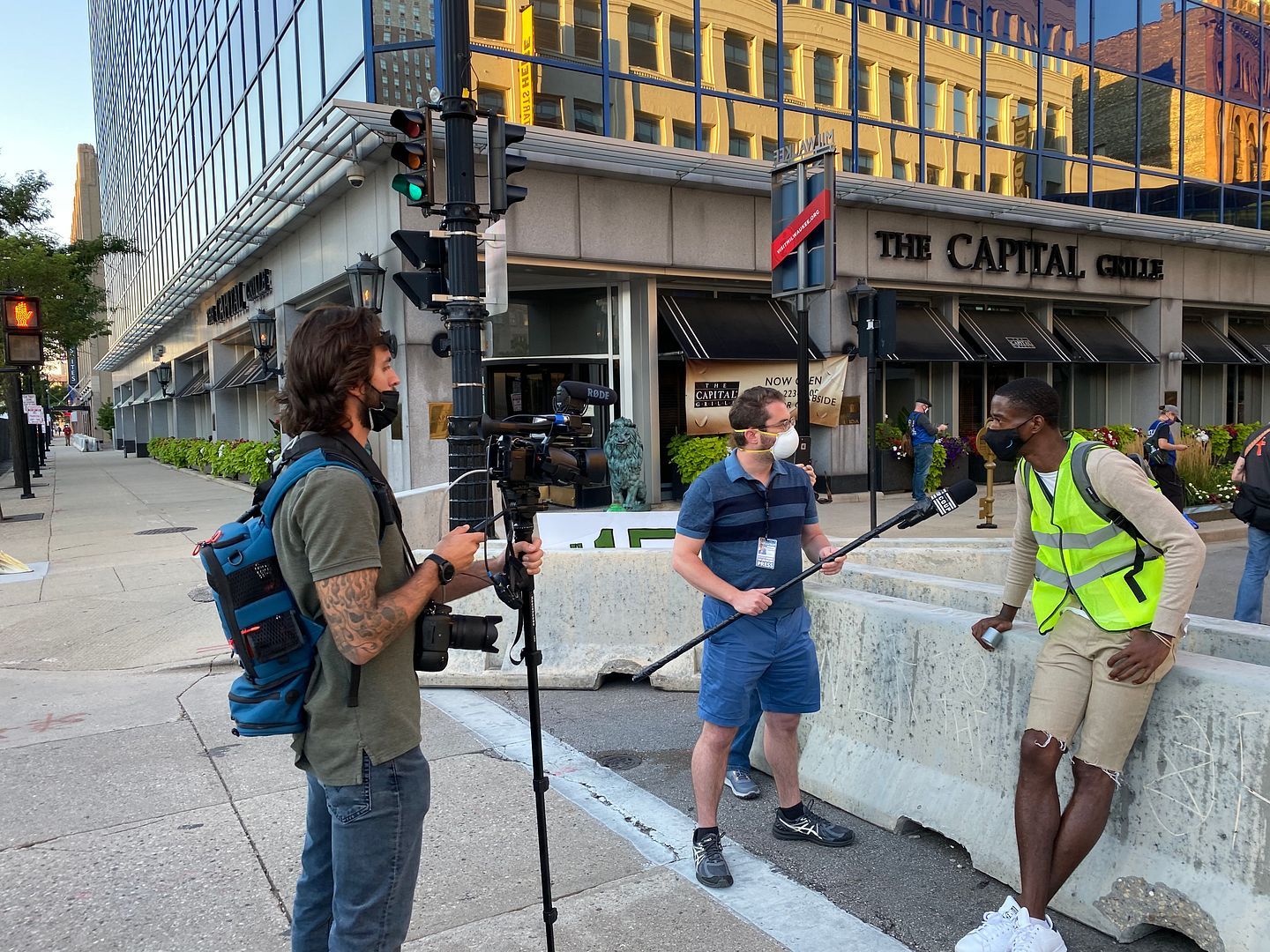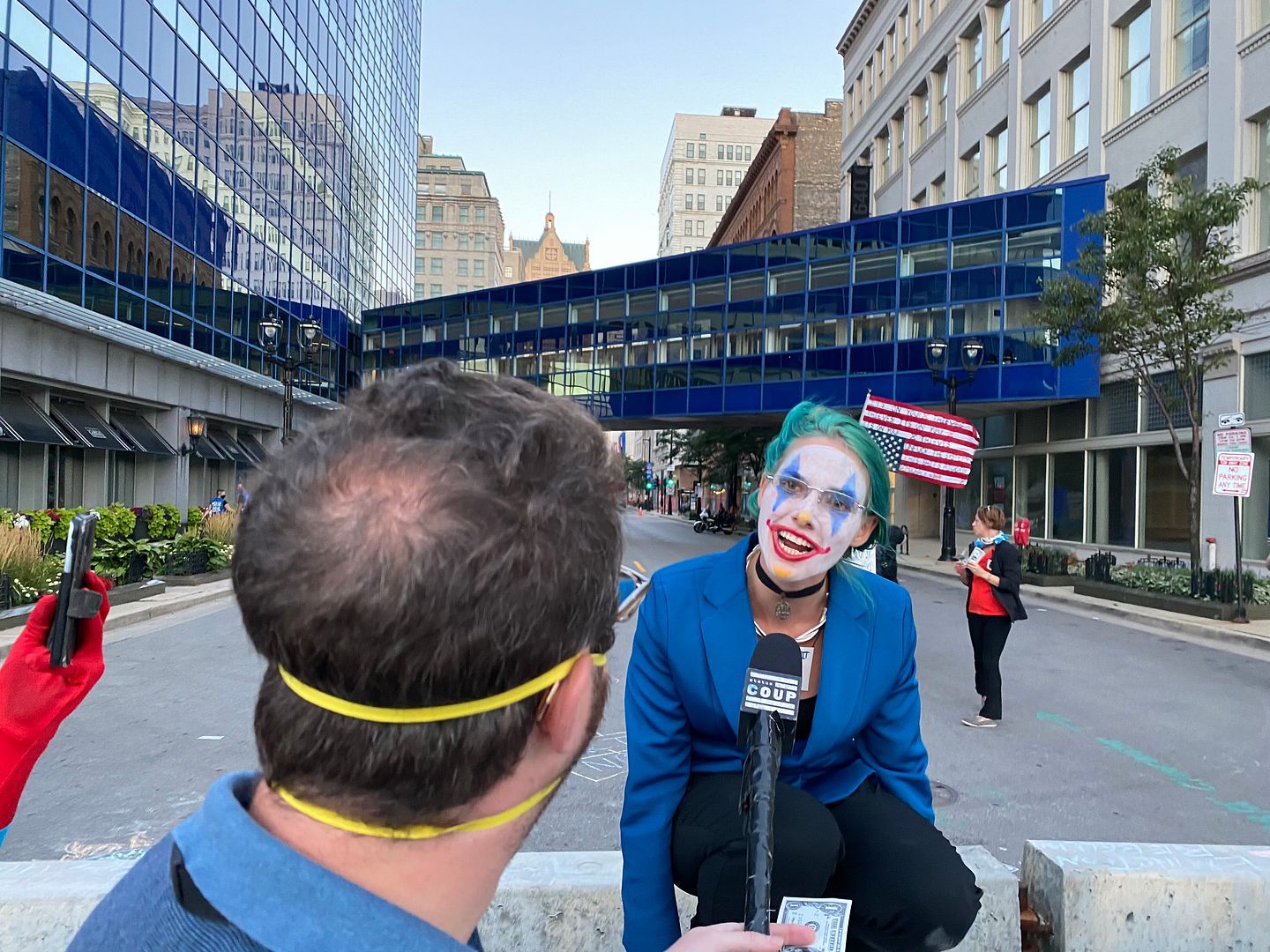 Text Coup to 370370 so you see when we're live throughout convention week!
8/20/20 Updates
Today was day four of the #DemConvention– the day progressives everywhere dreaded– Joe Biden accepting the Democratic nomination for president.
We went live from the hotel to recap day 3, did a special-edition member call (which we've never done before from the road!), and covered a Black Lives Matter/yellow vest/march on the DNC protest and march.
While the #DemConvention itself was largely devoid of policy, the people in the streets were demanding more from our politicians and party.
Here are the streams from today:
DNC Day 3 Confirms the Democratic Party is Punking You–Jordan & Jenn LIVE From Milwaukee
BREAKING: Yellow Vest Protests On Final Night of DNC Convention–Jordan LIVE From Milwaukee
"For Sale" Joe Biden Not Getting Many Bernie Yellow Vesters' Vote
As Joe Biden Speaks at DNC, Protesters March in Milwaukee
Here are some behind-the-scenes pics from today:
8/21/20 Updates
Surprise! We drove to Chicago to cover a rent/eviction focused protest, on day 5 of its organizing. We capped the night off with a deep dish pizza!